Dishwashing Brush with Replaceable Head
This plant-based, wooden dish brush is a perfect plastic-free alternative to plastic cleaning tools in the kitchen. Use it to clean dishes, pots, and sinks.
The head is replaceable so you can save the handle and reduce your waste when the brush wears out. 
The handle is made of sustainable wood and the bristle of the brush is made of sisal (a Mexican plant agave with large fleshy leaves). Sisal is a thick hard fiber, wear-resistant and easy to clean. 
Size: 9 inch x 1.55 inch x 1.95 inch
For longevity, do not leave the brush soaking in water—the wood will absorb water and it will cause the wood to swell and crack. Place in a dry spot after using it. You can oil your brushes to reduce the potential of cracking if you regularly submerge your brushes in water.
Tip: If you find your brush is not staying dry, dip the bristles in vinegar occasionally to help kill bacteria. 
Detachable head
Vegan
Plastic-free
Package-free
Zero-waste
Plant fibers
Sustainable & compostable
Why it matters: Plastic bristle brushes shed tiny pieces of plastic called micro plastics. These tiny plastic pieces are not filtered out fully by sewage treatment. They are being eaten by marine animals and ending up in the food chain and our tap water.
End of life: Once worn out, the wood and sisal parts can be composted or buried in the garden, the silver metal parts can be recycled.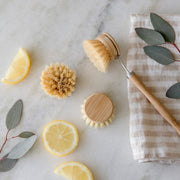 Dishwashing Brush with Replaceable Head