No more plastic in the tub. This natural loofah sponge is plant-based and environmentally friendly. The perfect sustainable addition to your bathing routine.
Made from rried luffa plant. Approximately 4 inches.
Can be used for up to one month in the shower to cleanse and exfoliate the skin, or in the kitchen to scrub dishes. Rinse with clean water after each use and hang it to dry. Don't store it in the shower to dry, as moist conditions will likely promote bacteria growth. Can be cut into various sizes. We like to slice 1" disks to use as soap / shampoo bar holders!
Pease compost at end of life. Not recommended for more than 1 month of use on the skin due to dead skin cell buildup in fibers, but can be washed in dishwasher then re-purposed to scrub floors, etc.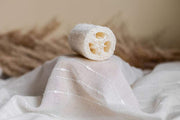 Natural Loofah