Night Ritual Pillow Spray
The perfect soothing addition to your nightly ritual. Lavender is helpful in treating restlessness, Bergamot oil helps soothe nerves and Cypress is a calming sedative. All three help to combat insomnia. Frankincense can lower anxiety and is used as a natural sleep aid due to its calming, grounding scent.
Ingredients: Lavender, Bergamot, Cypress and Frankincense certified organic, 100% natural, therapeutic grade essential oils. Certified organic Witch Hazel. Distilled water. Glass amber bottle.
Handcrafted in Los Angeles.
*Aromatic use only. Always test for skin sensitivity prior to use. Citrus oils can cause photosensitivity to sunlight. Do not ingest orally and keep out of eyes and nose. For external use only. Keep away from children. If pregnant or breastfeeding consult a physician before use. Always use in moderation.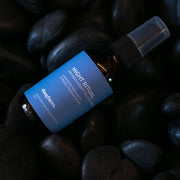 Night Ritual Pillow Spray