Pure organic white beeswax candle. Unscented, 4oz, glass jar with metal cap. Cotton wick.
Perfect for anyone sensitive to fragrances or scents, but would still like to enjoy the ambiance and beauty of a candle. These candles are hand poured from 100% certified organic beeswax. Beeswax candles are very long lasting and release negative ions when burning, which naturally purify the air. The amber glass jar gives off a beautiful glow when lit.
Burn time is approximately 30 hours. Made from organic white beeswax, certified organic by the USDA.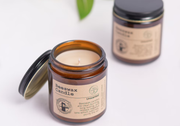 Organic Beeswax Candle