The Original Turmeric Tonic is a powder blend of 6 essential superfoods to support skin glow, debloating, and immunity.
Featured Ingredients + Benefits:
Turmeric is the ultimate superfood for skin and gut health. It can help to support skin clarity and radiance, and is a longtime remedy to banish bloating and boost immunity.
Coconut is the creamy base of this tonic, rich in good-for-you fats like MCT (medium chain triglycerides) which can support hair, skin, and nail health and boost metabolism.
Ingredients: coconut milk powder (coconut milk, tapioca starch, acacia gum)*, turmeric**, ginger*, cinnamon*, cardamom*, black pepper*

* = certified organic
** = organically grown
How-to: Try it in water, milk, coffee or smoothies! Blend to combine with your favorite hot or cold drinks. Enjoy daily at any time.
Contains 30 daily servings
No added sugars/sweeteners
Vegan and Keto friendly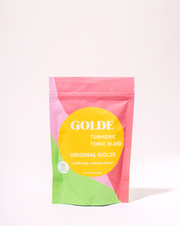 Original Turmeric Tonic