Tigers Eye Crystal Candle
Hidden inside is a Tigers Eye that radiates powerful vibes to release fear and anxiety . Once your candle has burned retrieve your crystal and carry it with you, or place it in a special space to empower your self confidence.
Hand-poured and made with 100% American farmed soy wax, the natural essential oil blend features notes of Oakmoss + Amber.
9 oz, 50 hour burn time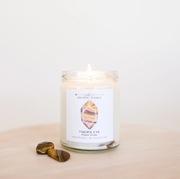 Tigers Eye Crystal Candle