This modern inspired mountain scene made from stained glass feels beautifully grounded with a modern-looking wooden base. Each piece of glass is hand cut and shaped. Maple wood base (designed by Brewer & Marr and handmade by woodworker, Absolution Woodworks) is finished in linseed oil to bring out its natural grain. Glass pieces fit snuggly into the slots and are fully adjustable and interactive. Meaning you can move the pieces around to make a different looking mountain scene all your own, whenever you feel like switching it up!
Display it on a shelf, table, mantle, etc.
Details:
Measurements: base / 11 3/8" x 3" x 1". Overall height, with glass pieces, sits at 5 3/4" tall.
Indoor use only.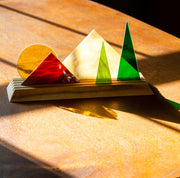 Mountain Set Sun Catcher