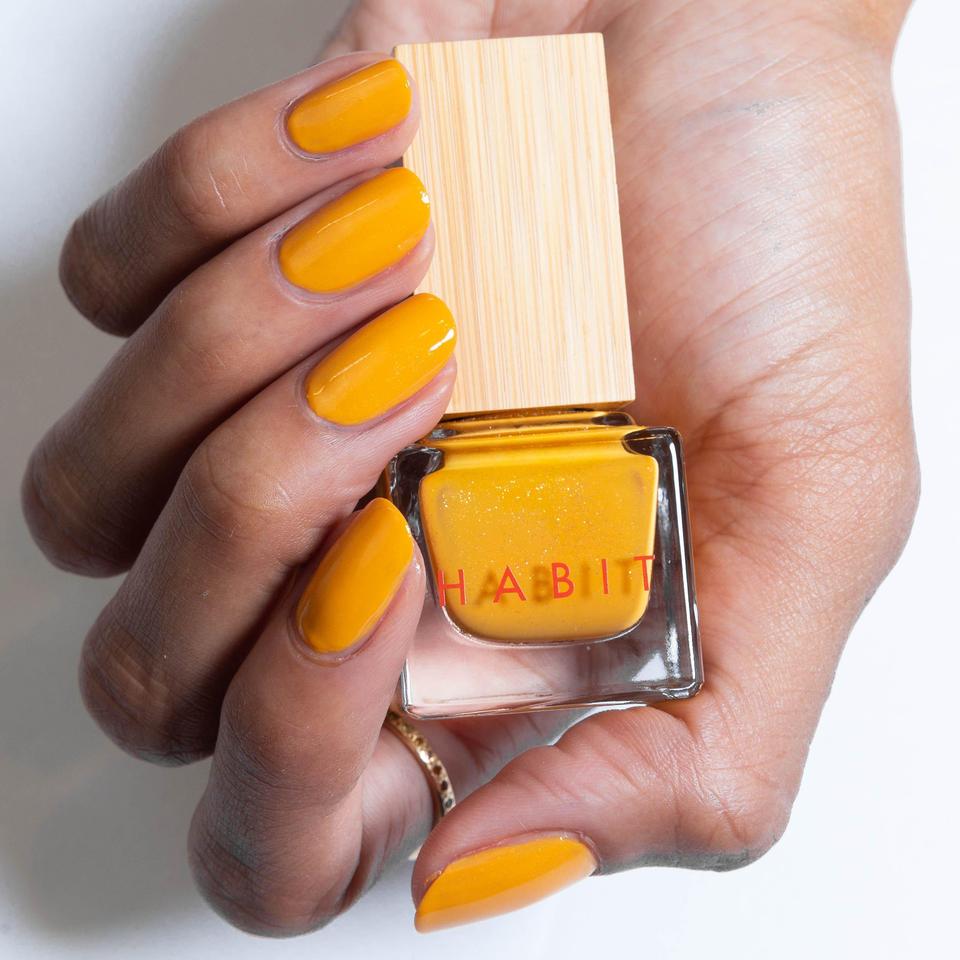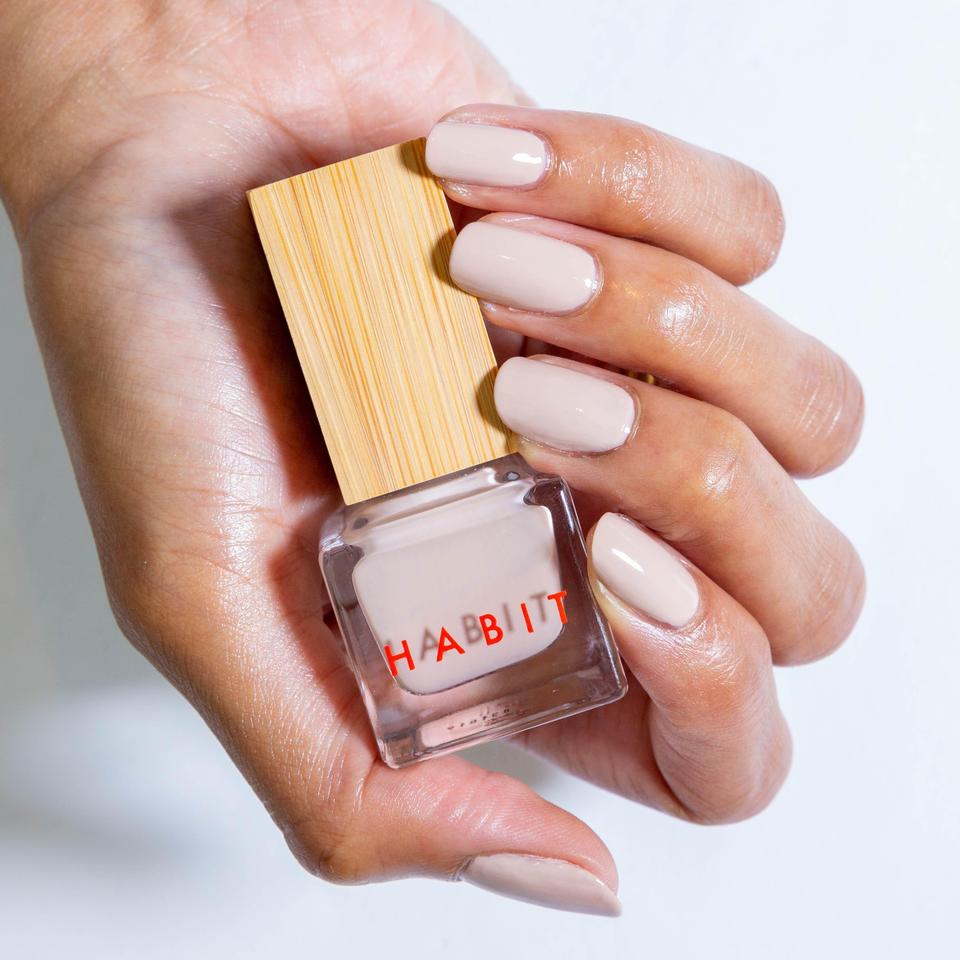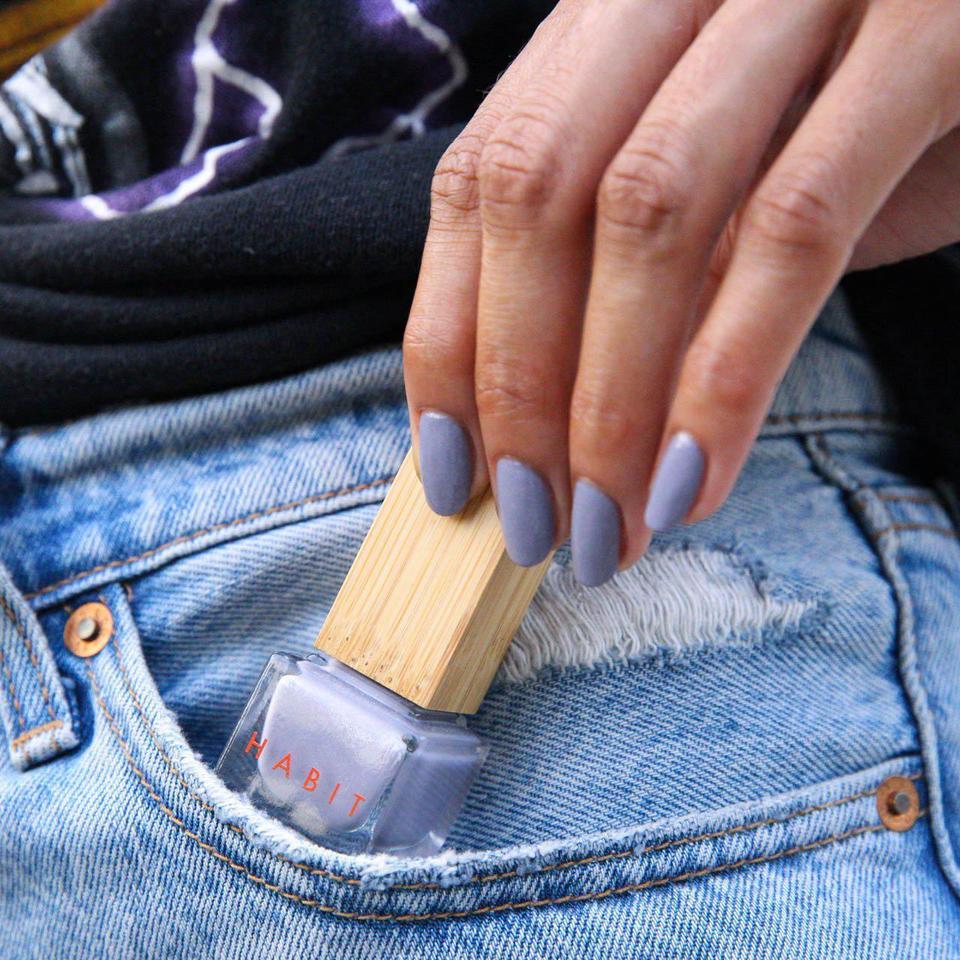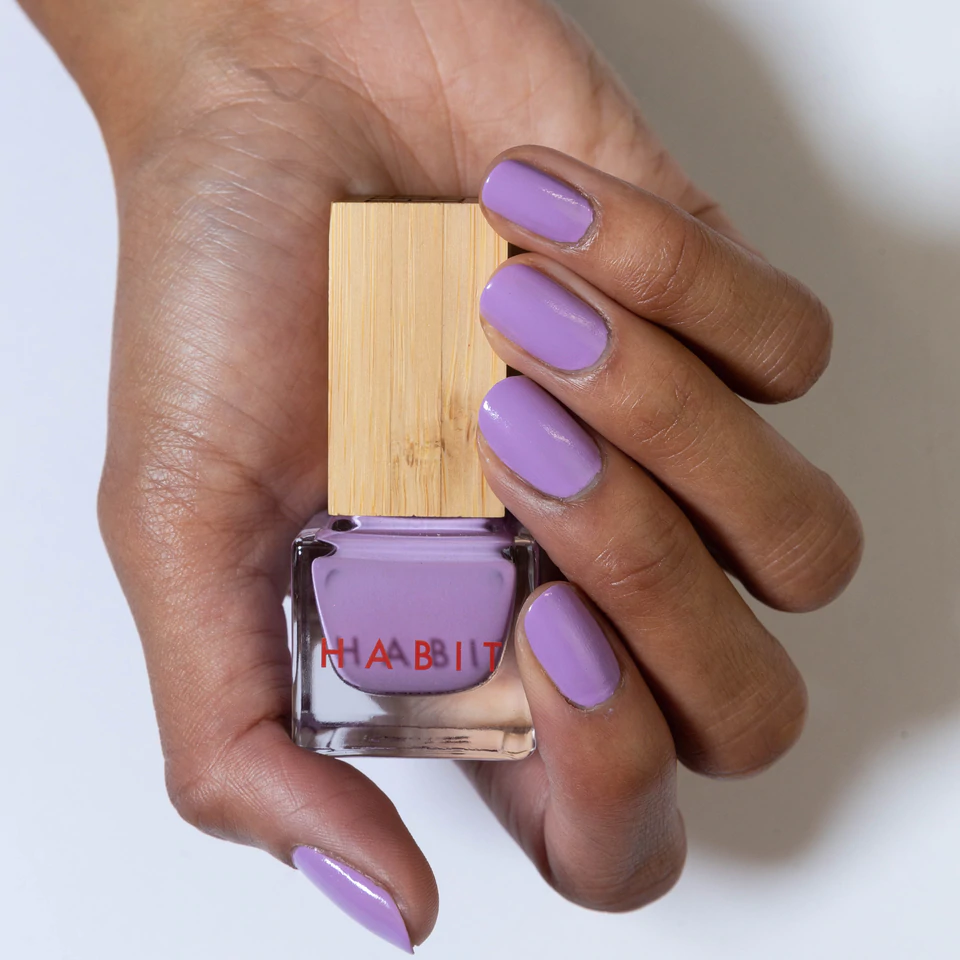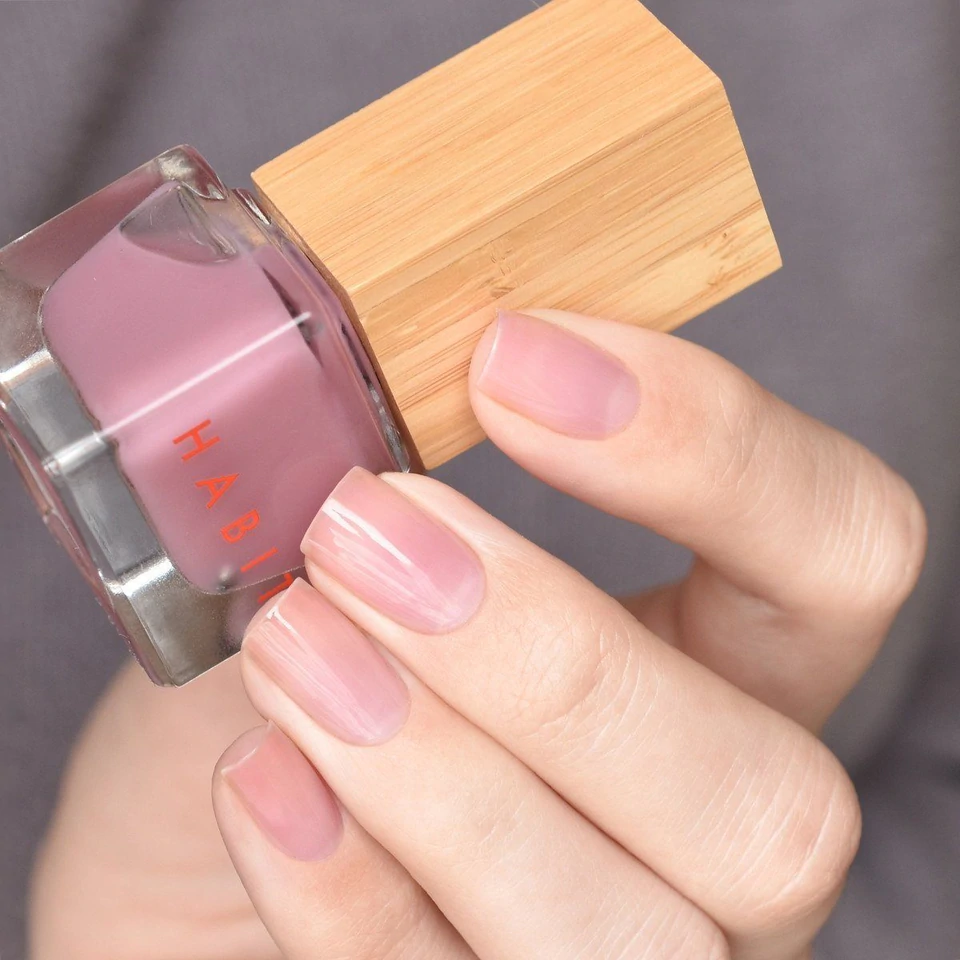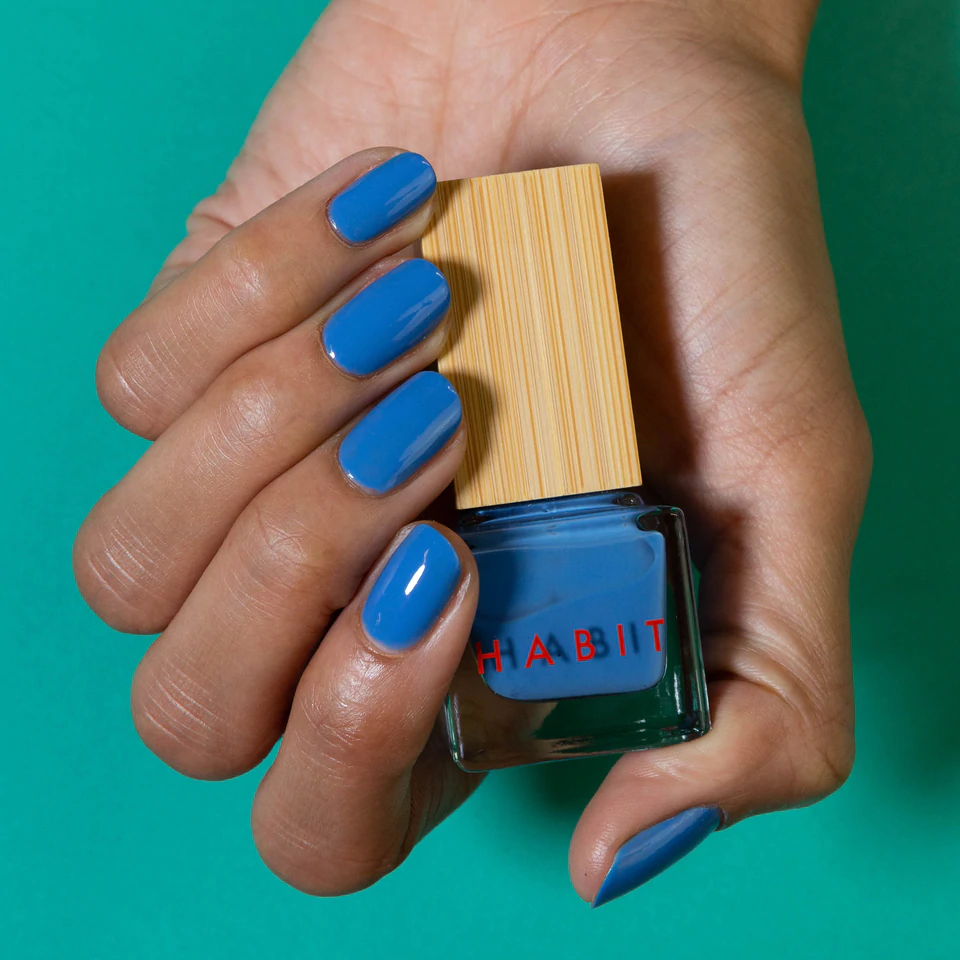 Non-Toxic Vegan Nail Polish
A healthier Habit, this nail polish is made with a vegan, cruelty-free, toxin-free formula and infused with Myrrh extract to improve nail strength.
Guilt free packaging: Habit nail polish is the only polish packaged with recycled plastic components, biodegradeable bamboo overcaps to keep plastic use to a minimum, and FSC-certified paperboard boxes.
Free of Toluene, Formaldehyde, Formaldehyde Resin, Camphor, TPP, DBP, Isobutylphenoxy Epoxy Resin, Ethyl Tosylamide, Xylene and Parabens.
PETA-certified vegan and cruelty-free, gluten-free. Made in USA.
Base: a strengthening, non-toxic base coat.
Blue Jean Baby: a denim blue nail polish with an opaque jelly finish.
Cavalier: a vibrant honey mustard with flecks of gold shimmer. 
Golden Hour: a burnt sienna orangey brown nail polish color infused with bright gold shimmer.
Ingenue: a semi-opaque pinky nude. Delightful in it's simplicity, this is a beautiful everyday, no-fuss shade.
Kitten: a playful, rich fuchsia creme.
Lush: a lavish soft grape creme. Rich and soothing, this shade is the visual equivalent of your nightly vin rouge.
Matte: clear nail polish top coat that takes the gleam off your mani. If you love color but you're not a fan of shine, she's your girl!
Mimosa Mami: a juicy, orangey coral nail polish with soft gold shimmer.
Moon Rock: a dreamy pink-tinged off-white with a creme finish. Our answer to pure white polish, it flatters every skintone.
Night Shift: an outrageously gorgeous shimmering bronze for those who work hard for their money and want to look good doing it.
Serpentine Fire: a radiant, metallic rose gold.
Sunset Boulevard: a magnificent grey-blue with silver shimmer.
Tabou: an orangey red so hot, it's practically illegal.
Tanlines: a creamy, semi-sheer tan. A beach day in a bottle.
Vesper: a vibrant teal with silver and turquoise shimmer. Just like the stars in the evening sky, this beautiful shade brings the light on even the darkest of nights.
Voyeur: a sheer wash of rose. A seductive hint of color for those who want only the look of clean, healthy nails.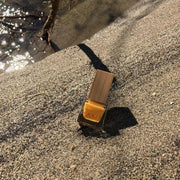 Non-Toxic Vegan Nail Polish